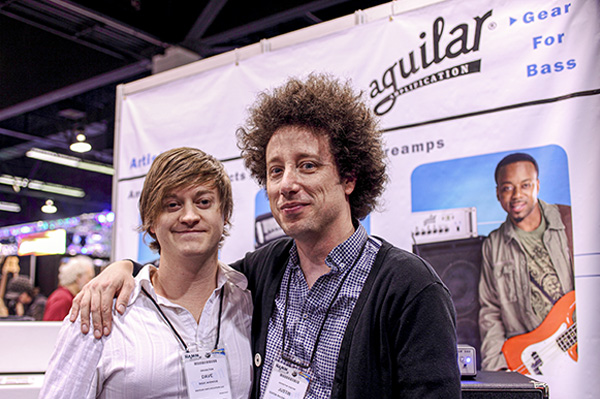 Aguitar Amplification CEO Dave Avenius (Left) and Aguitar Artist Justin Meldel-Johnsen (Beck, Garbage, Nine Inch Nails) at the annual NAMM (National Association of Music Merchants) Show in Anaheim, CA. Brand Ambassadors present opportunities for inceased sales by providing high profile exposure of your products to large groups of the public. These relationships can greatly increase your product's appeal and lead to increased demand and sales.

After building their brand and reputation for decades, Aguilar was successful sold in 2020 and is not part of a much larger network of boutique, high-end instrument brands.
The creation of sales channels that provide predictable, reliable, and sustained performance is often the most difficult aspect of business to master. Too often, companies consider their sales activities as a stand-alone activity; especially if their sales channels include outsourcing through distributors or resellers. To build ongoing successful sales channels you must to think of the sale of a product or service as the final step of a successful marketing strategy.
Successful go-to-market strategies for either products or services are derived from understanding your customer and their needs as well as identifying the marketplace variables your company operates within. These variables are referred to as PESTLE (Political Factors, Economic Factors, Social Factors, Technological Factors, Legal Factors, Environmental Factors).
The foundation for successful sales is built from understanding the challenges these marketplace variables create. Once identified, I will assist you in the implementation of a plan to address and overcome any challenges the marketplace presents.